I want to be able to look my daughter in the face when she learns about the DEMS positions on rebuilding Iraq and our attempt to liberate and bring Democracy and freedom to the middle east. I want to be able to answer her question when she wants to know how I reacted when I saw the General BETRAY US ad in the New York Times. I want to be able to look myself in the mirror and know I am not hearing things when the DEMS now say they supported this effort all along. We are right (again) and I want to answer my daughter correctly when I tell her than I was on the right side!
Iraq will be the DEMS undoing... Well, Perhaps not due to the revisionist mainstream media who never fails to call DEMS and LIBS out for being proven so wrong on so many items. (See also the Cold War, Losing 10,000 troops the first week in Iraq, pulling out of Vietnam, opposing the 1664 Civil Rights Bill, the "Betray Us" ad, the smearing of Mitt Romney's religion, etc).
I love the good news out of Iraq - I love how America is finally seeing the DEMS for what they are - gutless and weak when it comes to supporting this country and what it stands for - liberty!
I often say America is not the problem, we are the solution. Here are some brilliant "Eat Crow" or "Stick this" cartoons on the subject of Iraq and how ridiculous Democrat "leaders" look.
How did we let this stand? That ad was so blatantly anti American and absolutely ridiculous! Weeks later remember that ABC refused to run an ad supporting our troops! Ah the mainstream media - great aren't they?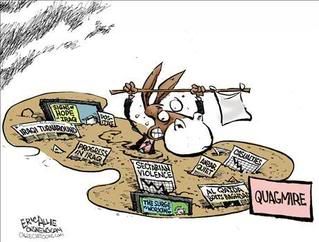 And the ultimate irony (sorry Alanis) when it comes to out troops and what they possibly could be thinking about the media, Democrats...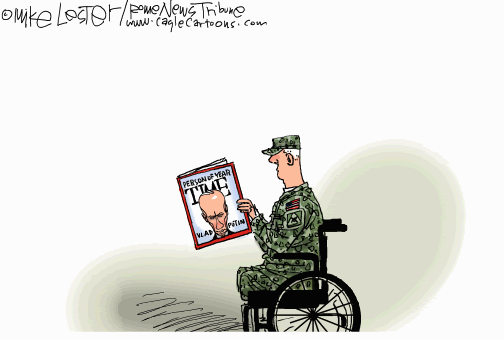 Man oh man I hope Hillary gets the nomination because it is going to be AWESOME to bring up all of the flip flops and outright lies she has told in public statements and in congress. Go to www.boortz.com and check out the compare Hillary quotes to the Communists of the world. It is sassy!! HA HA