What's with all the Propaganda?
What is with all the dramatic full color logos of this candidate? Does this creep any one else out?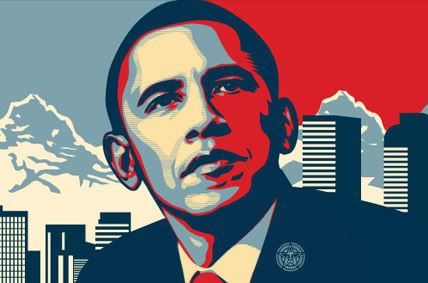 I don't seem to remember any full color ad agency produced logos of George W. Bush during the last Presidential campaign. Caricatures certainly, but... hey. Are we even allowed to ask this type of question?
Did Clinton (Either one) Kerry, Gore, Carter, etc have
their likeness
done up all fancy like this? Even Reagan, who I was told in elementary school was only popular because of his "media machine and command of the image he portrayed," never had his own logo.
What is all of this? We hear the school children singing Obama songs, the chants of the "Obama Youth" dressed in Military garb telling us what they can now do with their lives because of Obama... eerie. When have we seen this before?
In his BERLIN speech he claims to be a "citizen of the World?" How about just "President of the United States?" That will be sufficient thank you. His face is up on posters, tee shirts (Che Guevara anyone)? and web banners... this is truly something to behold in this a free, and so I had thought, intelligently skeptical society.
HOPE. CHANGE. TACO