NICOLAS SARKOZY: French President's Inspiring Speech to U.S. Congress
Ukraine Pushes to recognize Soviet engineered famine as Genocide
(finally)!

http://news.yahoo.com/s/ap/20071123/ap_on_re_eu/ukraine_great_famine
URGENT! New York Times reports good news from Iraq! Even that Al Qaeda has been driven from Baghdad!
http://www.nytimes.com/2007/11/08/world/middleeast/08iraq.html?_r=1&oref=slogin
(note: headline still refers to them as "Militant Group")
http://query.nytimes.com/gst/fullpage.html?res=9C06E1D71F3EF932A05756C0A9629C8B63
http://www.nytimes.com/interactive/2007/11/19/world/middleeast/20071120_BUILDUP_OVERVIEW.html
http://thelede.blogs.nytimes.com/2007/11/21/refugees-more-good-news-from-iraq/index.html?ex=1353387600&en=fee0e4d97ef80e9e&ei=5088&partner=rssnyt&emc=rss
More Good News in Iraq
http://news.yahoo.com/s/ibd/20071119/bs_ibd_ibd/20071119issues
Angela McGlowan speaks the TRUTH in Bamboozled!
http://www.angelamcglowan.com/wordpress/
http://www.amazon.com/Bamboozled
WHAT PEOPLE ARE SAYING ABOUT THIS TREND BREAKING BOOK:
"Here is the heated heart and hot soul of the modern Republican push for Blacks and Latinos to vote with the GOP. Angela McGlowan's voice is sharp, her insights penetrating, and she cuts her opponents to the bone."

— JUAN WILLIAMS, FOX NEWS POLITICAL ANALYST




"Angela McGlowan has written an engaging and fact-filled response to those who think only liberals can represent the aspirations of minorities and women."

— LINDA CHAVEZ, AUTHOR, CENTER FOR EQUAL OPPORTUNITY



"Bamboozled combines powerful original research with vibrant writing to create a devastating critique of what 50 years of liberalism has meant for America. A must-read for anyone who cares about the nation's future."

— PETER SCHWEIZER, AUTHOR, DO AS I SAY (NOT AS I DO): PROFILES IN LIBERAL HYPOCRISY


"Sharp, accomplished, insightful, personable and pro-active. Angela
McGlowan is formidable. It's easy to see why she would entitle her new book Bamboozled. If there is anyone who can call it for what it is, it's Angela."

— JIM HOWELL, PRESIDENT, WASHINGTON TIMES
David Horowitz is an American Hero
http://www.frontpagemag.com/Articles/Read.aspx?GUID=C4E44D2B-9A12-4C23-ABA1-12B71D02ADD7
My jaw dropped upon reading "Indoctrination U" Unbelievable and all so under the radar of most Americans...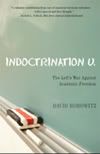 http://www.terrorismawareness.org/what-really-happened/
Wake up. I am wide awake.